How did it all start?
It all started in the 18th century in the small village of Andrychów and the neighbouring villages of Roczyny, Inwałd, Sułkowice, Targanice, Wieprz, and Zagórnik in Małopolska. The peasants who lived there hit upon a great idea about how to make money. Besides cultivation they began producing flaxen fabrics, which were then sold by merchants who had built a wide network of links and trade contacts. They reached even the remotest cities of Europe. According to the written sources of that time, more than 80% of cloth produced in Andrychów was exported to cities including Barcelona, Marseilles, Istanbul and Moscow.
At that time, Poland could boast no other trading centre with such extensive trade contacts. The great scale of production and the international range of trade were possible due to the collaboration of local peasant-artisans. A popular saying comes from the time of the prosperity of Andrychów in the 18th century:
"Although Andrychów may be poor, it supplies the world with coarse flax fabrics!"
What was an Itinerant Draper?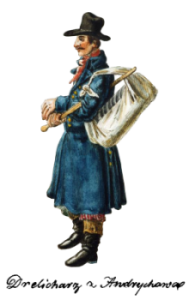 An Itinerant Draper was a door-to-door merchant from Andrychów. The word Itinerant Draper (Polish: drelicharz) derives from the name of the durable fabric sold by him. The representation of the Itinerant Draper was preserved in the works of Kajetan Wawrzyniec Kielisiński (1808–1849). It was found by Aleksander Błachowski, PhD, and donated in 2008 to the Society of Andrychów Enthusiasts (Towarzystwo Miłośników Andrychowa) through the agency of Ewa Fryś, PhD, an ethnographer from the Ethnographic Museum in Krakow, who comes from Andrychów. Aleksander Błachowski has also found a representation of a woman itinerant draper from 1834 made by Kajetan Wawrzyniec Kielisiński.
An annual Małopolska Interschool Peasant Business School Game Tournament has been organised in Andrychów since 2010. The winner is awarded the Itinerant Draper from Andrychów Cup.
Who helped the peasants from Andrychów to succeed?
In the 18th century, the Czerny Schwarzenberg family, estate owners from Andrychów, brought in weaver families from Belgium, Saxony and Silesia to the town. Thanks to them, peasant weavers from Andrychów soon were ahead of the metropolitan weavers from Kraków in respect to their knowledge and skills. Aside from this, the Czerny Schwarzenbergs sold land to the peasants of Andrychów (they carried out the so-called purchasery). Due to this, the peasants did not leave the village, worked on their own land and were able to take out mortgage loans for business activity.
What was kolegacja?
In order to sell fabric of their own production, the peasants of Andrychów visited different Polish towns. They often went to Kraków, due to its close proximity. After some time, it led to protests from the weavers of Kraków who wanted to protect their home textile market. The peasants of Andrychów also travelled to Warsaw, Lviv, Jarosław, Lublin, Łowicz, Dubno and Silesia. However, the range of Andrychów production was not limited to the territory of Poland. Itinerant drapers of Andrychów had trading posts in Istanbul, Smyrna, Alexandria, Venice, Marseille, Barcelona, Lübeck, and Hamburg, as well as in many other towns. Travelling abroad was very expensive and it required the cooperation of many people. That is why the peasants started establishing partnerships named kolegacja. Colleagues (partners) shared work and expenses. They set up trading enterprises having their own capital, organisational structure and employees. Kolegacja partnerships could comprise a dozen, or even several dozen partners and skilled employees. They employed merchants, who bought linen products from local weavers, as well as coachmen and trading post staff. A kolegacja was led by a "founder" who prepared goods for dispatch and "set his colleagues off on a trip." This well-organised trade generated substantial profits and, owing to the kolegacja partnerships, the peasant entrepreneurs often made large fortunes.
What did a year in the life of a peasant entrepreneur from Andrychów look like?
Commercial expeditions had a profound influence on the life of both those who travelled, as well as their families who stayed at home; they also affected other village residents. The subsequent stages of the expedition preparations and the expedition itself resulted in the development of many interesting social phenomena in the area of Andrychów. The establishment of a kolegacja, the preparation for an expedition, the peasants' departure, their homecoming, as well as the distribution of profits created a certain cycle that was repeated many times and affected the life of the whole local community.
Drawing by K. Jończy
How did they organise trade expeditions?
Peasant entrepreneurs had to be well-prepared for expeditions that could last several weeks or even months. A solid and capacious travel waggon was of key importance. Different craftsmen, including wheelwrights, cartwrights and leatherworkers had to cooperate in order to create the so-called "forged waggon" (a speciality of the blacksmiths of Andrychów). The contents of the waggon were equally as important as the waggon itself. Old documents tell us what Szczepan Babiński, the merchant of Roczyny, required when setting out on an expedition to Constantinople. Unfortunately, this expedition turned out to be ill-fated for the merchant as he died on his way home in a traffic accident. The inheritance documents that were drawn up after his death include a list of his travel belongings which consisted of:
a forged waggon,
a pair of young horses,
two shirts,
trousers made of cloth and coarse flax fabric,
shoes, a cloth coat, a hat,
a large sheepskin (used for sleeping while travelling)),
a silver pin,
a bronze pot (used for preparing meals),
a small green box" locked with a key (for money and commercial documents),
a bag of small change.
Who?
What?
a cartwright
a wheelwright
a harnessman
a blacksmith
a forged waggon,
a pair of young horses
two shirts
trousers made of cloth
trousers made of coarse flax fabric
shoes
a cloth coat
a hat
a large sheepskin
a silver pin
a bronze pot
"a small green box" locked with a key
a bag of small change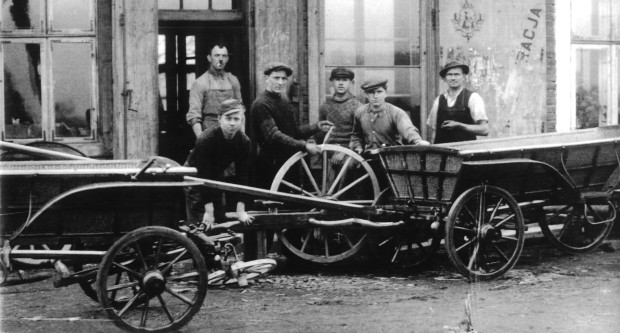 Photograph from the archives of the Society of Andrychów Enthusiasts
What did accounting look like and what did the property of peasant entrepreneurs consist of?
Because the 18th-century peasants from Andrychów and its vicinity were illiterate, they used signs of their own creation, cut in ceiling beams, for accounting purposes.
| | | | | | | | | | | |
| --- | --- | --- | --- | --- | --- | --- | --- | --- | --- | --- |
| Notation in Arabic numerals | ½ | 1 | 2 | 5 | 6 | 10 | 20 | 50 | 100 | 200 |
| Notation in numerals used in Andrychów | — | I | II | Λ | ΛI | X | XX | N | O | OO |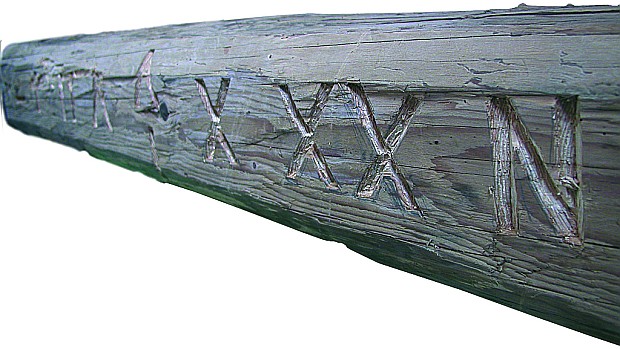 fot. S. Wacięga, CC BY-SA
On the basis of an extract from the last will of Antoni Ślęzak, the merchant of Andrychów, drawn up in 1751, we can find out what the property of a peasant of Andrychów consisted of:
Trading goods and means of transport (horses, waggons) – 7,570 of mountain gold pieces (MPG)
Raw materials left with weavers – 1,340 MPG
Goods taken to be mangled – 613 MPG
Profits of the previous transaction – 147 MPG
Loans lent on interest – 1,869 MPG
Total value of the property – 11,539 MPG
What was a recipe for success?
The answer is simple: there is strength in numbers!
Craftsmen of 18th century Andrychów worked as a cluster; they joined forces when such cooperation could bring them mutual benefits. Because of this, Andrychów was able to compete with other European weaving centres in the market. In contemporary economics, a cluster is a group of interrelated local entrepreneurs acting in the common interest, a good example of which is the Silicon Valley. IT companies located there cooperate with one another, and owing to this, the whole area is more competitive. As early as in the 18th century, the craftsmen of Andrychów and its vicinity knew well that cooperation would bring them huge benefits. Thus, they based their power on this cooperation and produced the largest number of linen types in Poland
A bleacher bleached linen
A dyer dyed linen
A wheelwright made waggon wheels
A leatherworker made horse harnesses
A mangler mangled manufactured linen
A blacksmith ofixed metal fittings to waggons and manufactured metal tools
A carpenter constructed and repaired looms and mangles

An itinerant draper organised the sale of the goods
A weaver produced linen
A purchaser of yarn delivered yarn to weavers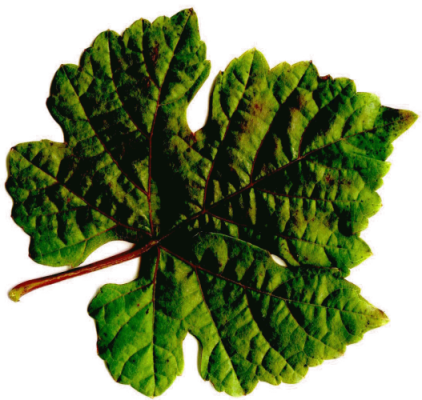 Bibliography:
A. Błachowski, Ubiór i krajobraz kulturowy Polski i Ukrainy Zachodniej w ikonografii
J. Glogowskiego i K.W.Kielisińskiego, Toruń 2011
A. Jura, Drelichy andrychowskie. Karta z dziejów przemysłu i handlu wyrobami tkackimi
w Polsce, Warszawa 1925.
M. Kulczykowski, Andrychowski ośrodek płócienniczy w XVIII i XIX wieku, Wrocław 1972.
M. Kulczykowski, Chłopskie tkactwo bawełniane w ośrodku andrychowskim w XIX wieku,
Wrocław 1976.
M. Kulczykowski, Dwa wieki miasta Andrychowa (1767-1967), Kraków 1967.
A. Zwoliński, Miasto Ankwiczów, Kraków 1993.